What makes a sandwich, burger, hot dog, or party spread? Condiments. It's the secret sauce, the sour cream, and the ranch dressing that truly make your taste buds sing and tempt you to go back for another bite. While these traditional dips, dressings, and spreads often contain sneaky animal ingredients, we've found exceptional and veganized store-bought options for every single one. From the original Vegenaise to fish-free peanut sauce, here are 19 fantastic vegan condiments that are better than the real thing.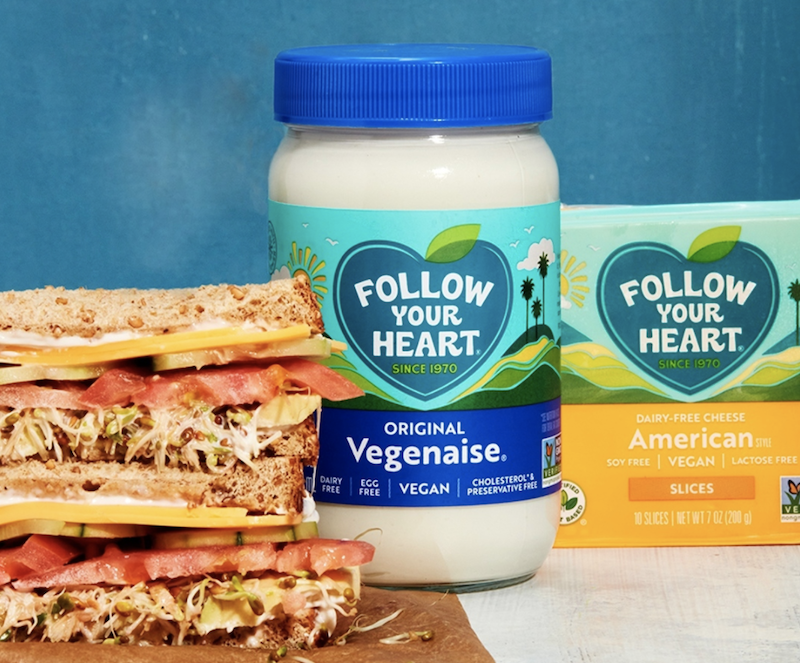 Follow Your Heart
1 Follow Your Heart Vegenaise
Vegans have the self-proclaimed hippie founders of Follow Your Heart Café to thank for creating the original vegan condiment: Vegenaise. Developed in 1970 for the café's Avocado, Tomato, and Sprouts Sandwich, this plant-based rendition of mayonnaise hooked customers who soon demanded it by the jar. While other brands have produced their own vegan mayo in the 50 years since its inception, Follow Your Heart's Vegenaise is still the beloved original. 
Learn more here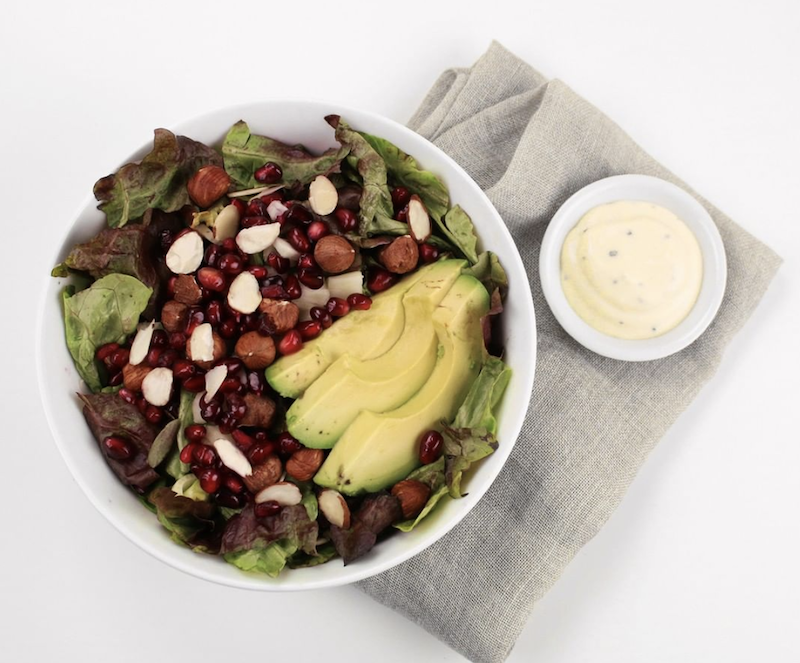 Daiya
2 Daiya Honey Flavored Mustard Dairy-Free Dressing
Given the vegan chicken boom, it's only appropriate to keep a bottle of vegan honey mustard on hand. This dressing is perfectly balanced with just the right amount of sweetness and kick. Dunk your favorite vegan chicken nuggets, drizzle over home-baked oven fries, or pour onto a massive salad for that iconic honey mustard taste. 
Learn more here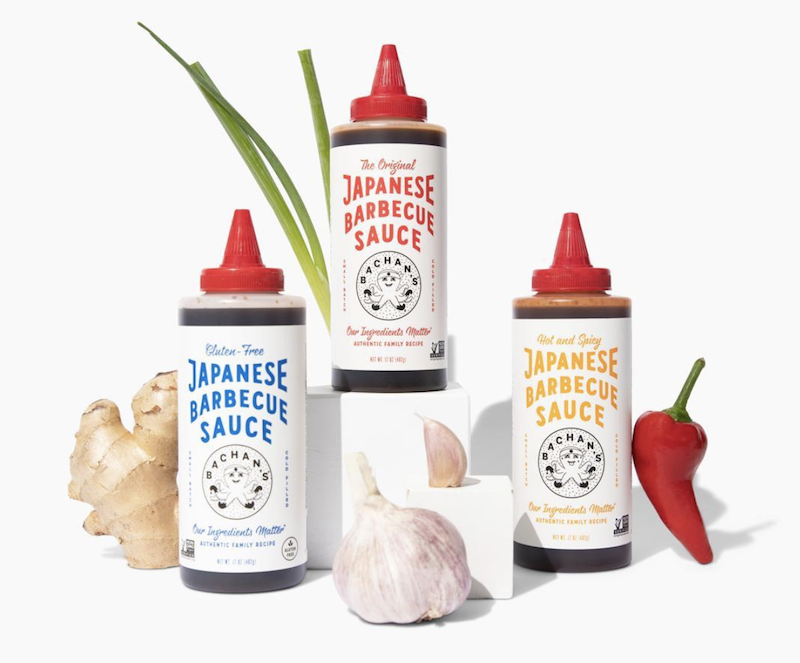 Banchan's
3 Banchan's Original Japanese Barbecue Sauce
Depending on where you grew up and where you live now, you likely have an attachment to a certain style of barbecue sauce. Many store-bought versions are accidentally vegan, and there's a good chance the brand you love is animal-free, but some sauces do contain non-vegan worcester sauce and/or honey. Check the label of your favorite brand or try out this balanced blend from Banchan. 
Learn more here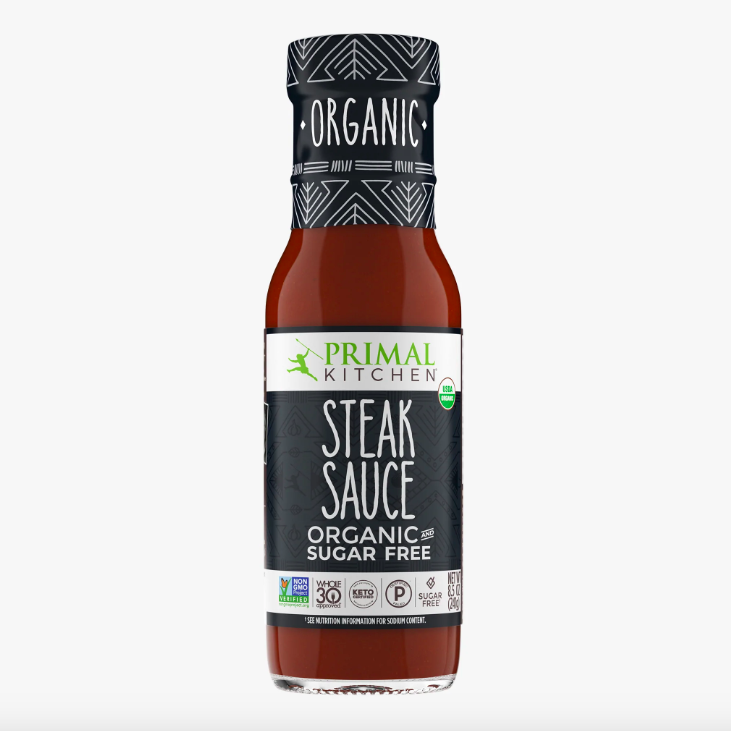 Primal Kitchen
4 Primal Kitchen's Steak Sauce
Despite its namesake, this classic marinade is free of animal ingredients and adds a punch of flavor to veggies. Whether you're whipping up grilled tofu skewers or trying out Gordon Ramsay's eggplant steak recipe, don't forget the power of the sauce. 
Learn More here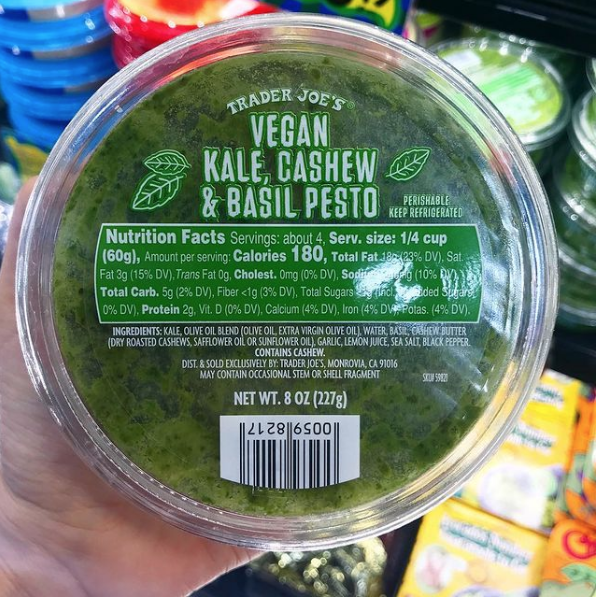 5 Trader Joe's Vegan Kale, Cashew, & Basil Pesto
Pesto should be vegan, but omnivore brands and chefs often can't help but put parmesan where it doesn't belong. This TJ's pesto version is a safe, plant-based go-to whenever you don't feel like getting out the food processor to make your own. For us, that's most days. 
Learn more here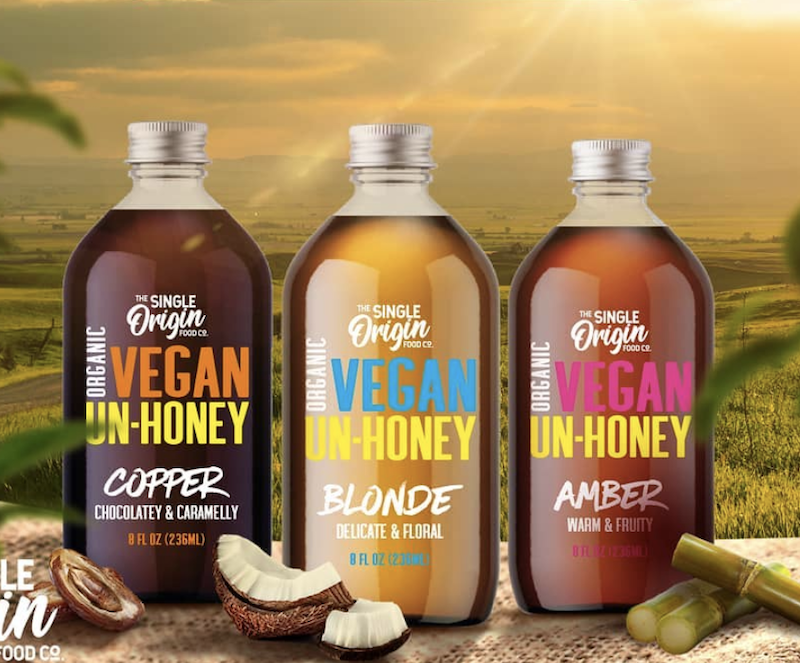 Single Origins Foods
6 Hot Honee
This spicy-sweet condiment is on trend. Popularized by the fried chicken craze, hot honey was soon taken up by the pizzaiolos to accentuate spicy pepperoni pies. Admittedly, we've yet to find a store-bought vegan version, but one can successfully recreate it at home by whisking together vegan honey (try Un-Honey) with a teaspoon or two of hot sauce. Test the spice level as you go! 
Learn More here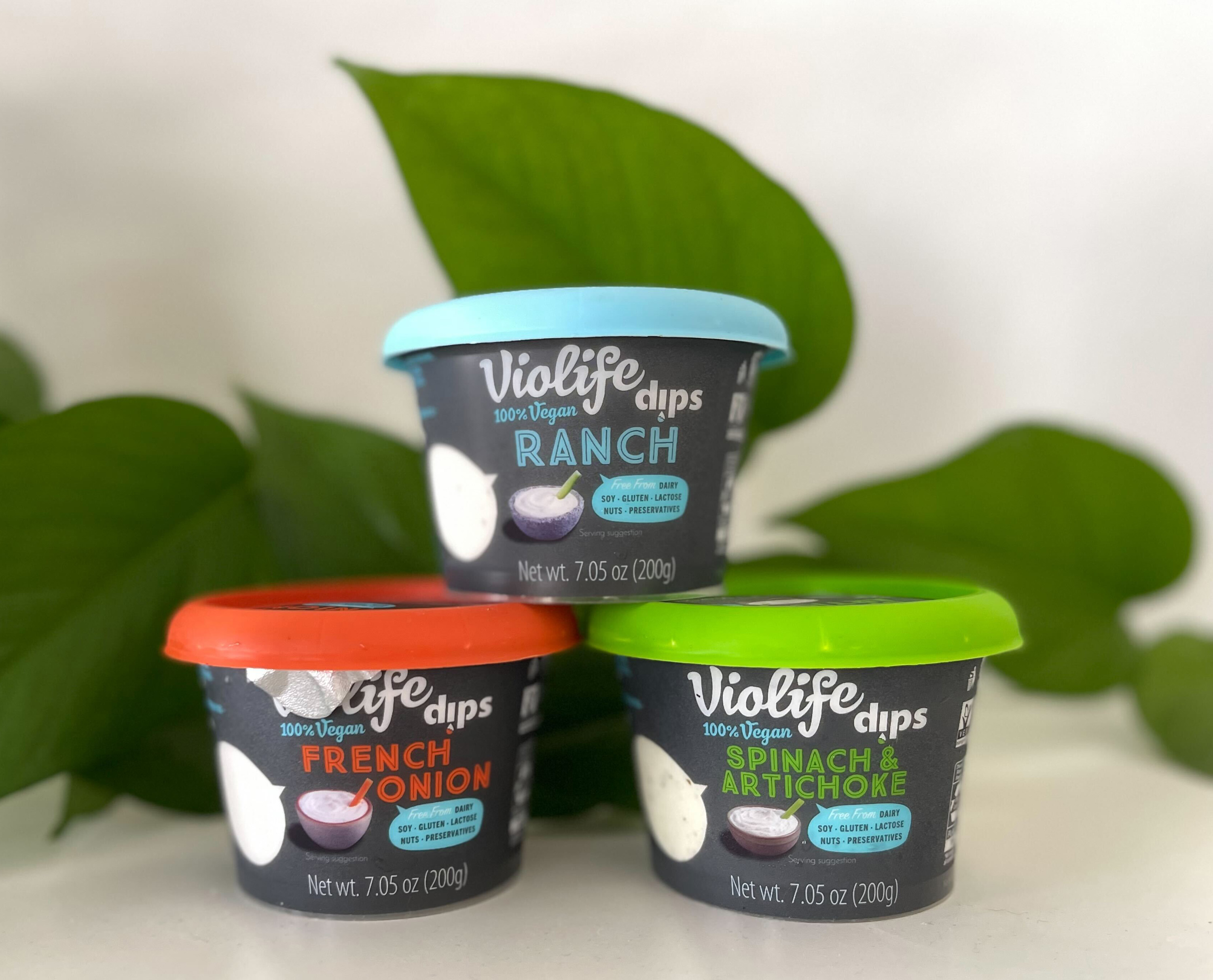 Sarah McLaughlin/VegNews 
7 Violife French Onion Dip
If you're using anything other than ruffled potato chips to scoop up this spread, you're doing French onion dip wrong. The fried, ruffled variety is the only chip strong enough to stand up to this robustly rich and thick dip. No chips? Sturdy, raw vegetables and vegan wings are adequate vessels to transfer this onion-spiked dip from tub to mouth. We can't get enough of Violife's new dips, and the French Onion is divine. Bring on the snacking!
Learn more HERE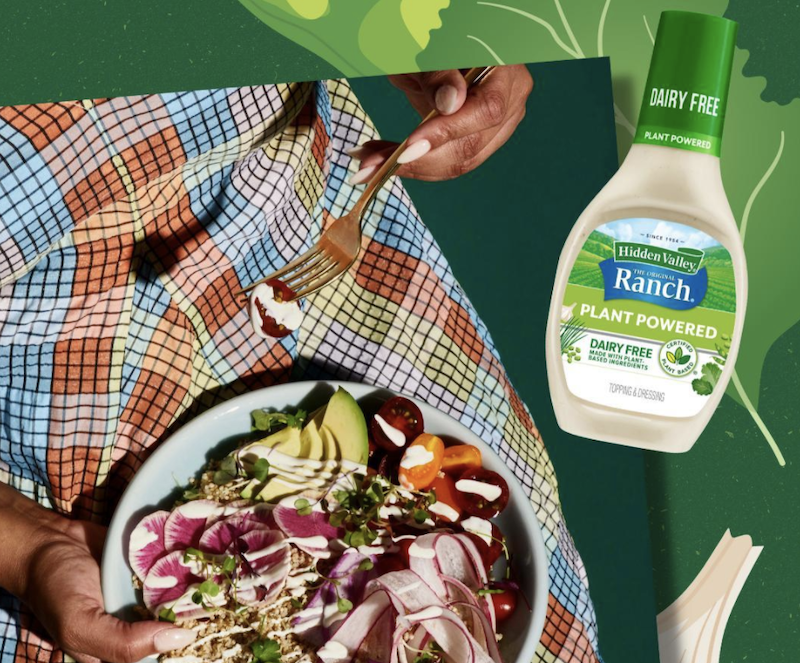 Hidden Valley Ranch
8 Hidden Valley Plant Powered Ranch
Whether you drizzle it over vegan pizza or exclusively reserve it for salads, this herbaceous condiment is a vegan triumph. There are countless iterations of quality vegan ranch dressings and dips, but we have to highlight the brand that got us addicted in the first place: Hidden Valley. Yes, they make a vegan ranch now. It's 2022, after all. 
Learn more here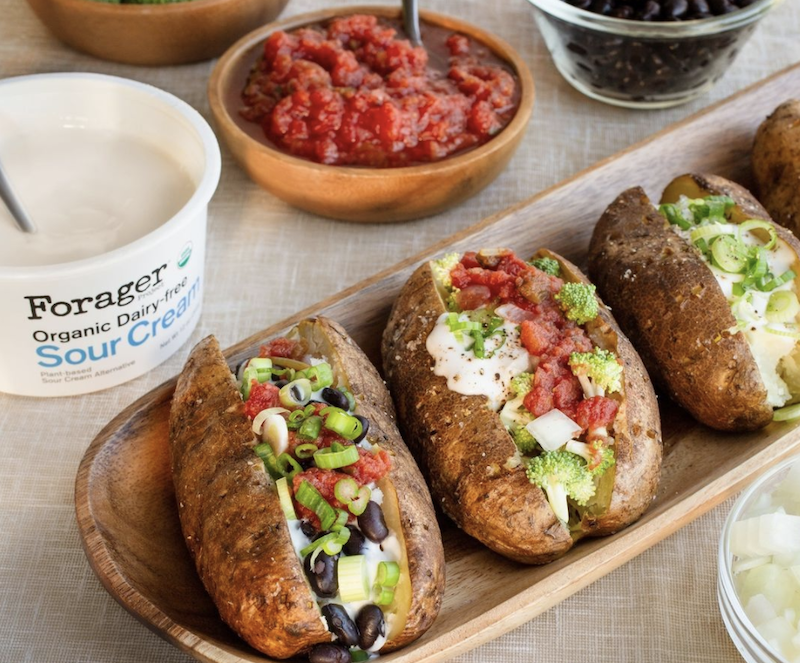 Forager Project
9 Forager Plant Based Sour Cream
Sour cream is like country music—people have very strong opinions about it. It's a love it or hate it kind of condiment, but if you're Team Sour Cream, this vegan product gets it just right. Rather buy it in store? Follow Your Heart and Forager both make excellent dairy-free renditions of this thick-and-tangy dip. 
Learn more here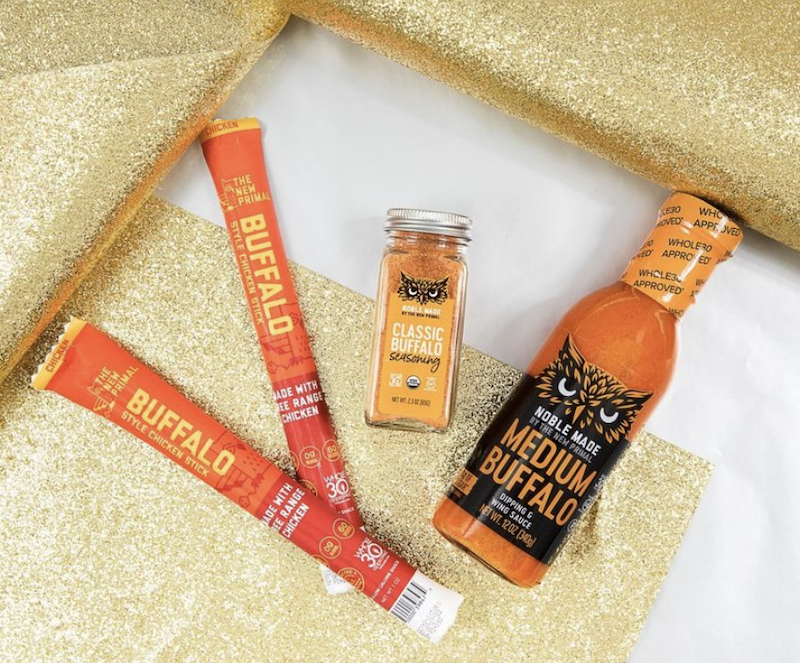 Nobel Made
10 Nobel Made Buffalo Sauce
When it comes to chicken wings, what matters most is not what the wings are actually made of, but the sauce they're smothered in. Give an omnivore fried-and-battered tofu or a store-bought vegan chicken wing drenched in fiery, tangy buffalo sauce, and none will be the wiser. 
Learn more here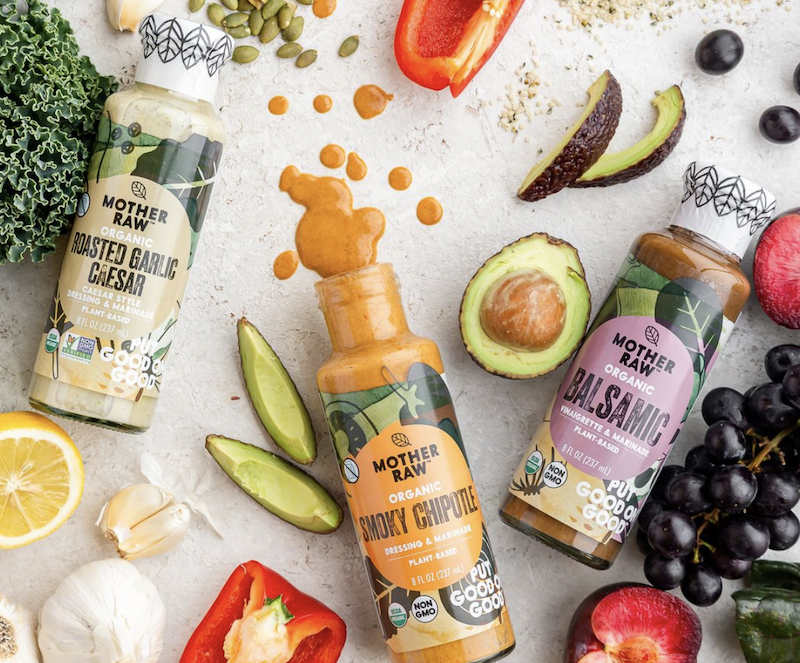 Mother Raw
11 Mother Raw Organic Caesar Dressing & Marinade
Once you know traditional Caesar dressing is made with blended whole anchovies, it's hard to enjoy it, even if you're not vegan. Liquified fish is just a little too off-putting for most. Fortunately, a variety of vegan brands have nailed the creamy, umami essence of this popular dressing—no fish-blending required. Brands like Mother Raw replicate that salty flavor with capers and nail the creaminess with an emulsion of olive oil, lemon juice, and apple cider vinegar. 
Learn more here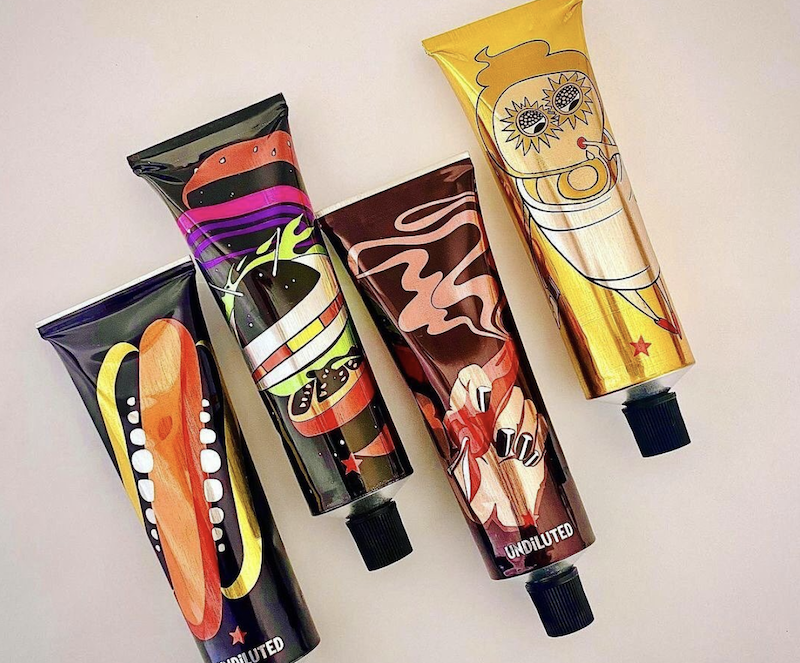 HLTHPUNK
12 HLTHPUNK's Vegan UFO Burger Sauce (Secret Sauce)
Spoiler alert: that oh-so-secret sauce that's so good you'd lick it off your forearm as it cascades down? It's not a secret at all. It's basically Thousand Island dressing with pickle juice and sweeteners. It's possible to make your own, but in a pinch, we reach for this store-bought tube of awesomeness every single burger night. 
Learn more here
Kite Hill
13 Tzatziki 
Hard to spell, easy to veganize. This thin, zesty yogurt sauce is made with almond milk, cucumbers, garlic, dill, and lemon juice. Try it drizzled over pita sandwiches, falafel, and Mediterranean-style grazing plates. 
Learn more here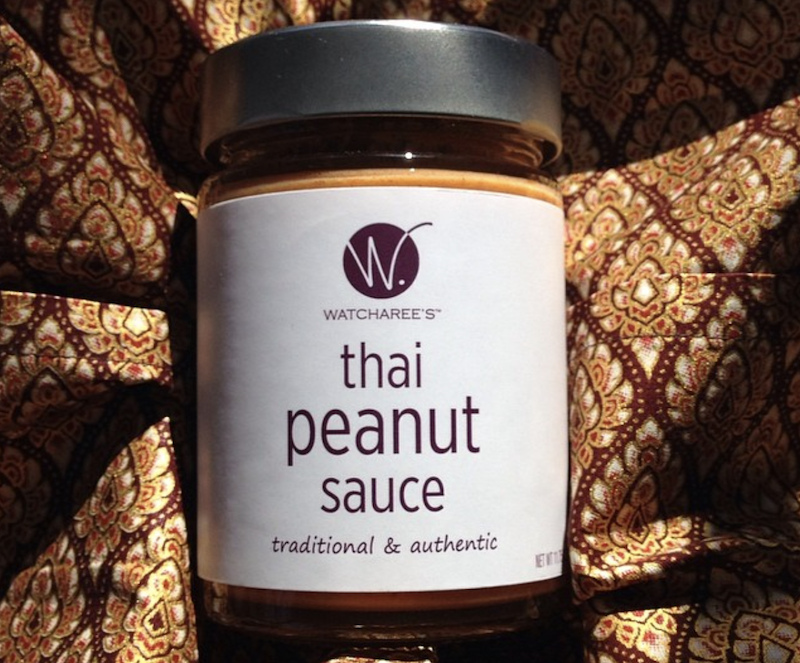 Watcharee
14 Watcharee's Thai Peanut Sauce
Let's clarify one thing: peanut sauce is not thinned-down peanut butter. The best peanut sauces are complex. They're nutty and salty and citrusy and sweet and whisper of umami. Most bottled varieties achieve this flavor profile with honey and fish sauce, but Watcharee's does it differently. The flavor is built with peanut butter, coconut milk, lime juice, tamarind, coconut sugar, curry paste, and a medley of other spices for a peanut sauce that rivals any animal-based contender. 
Learn more here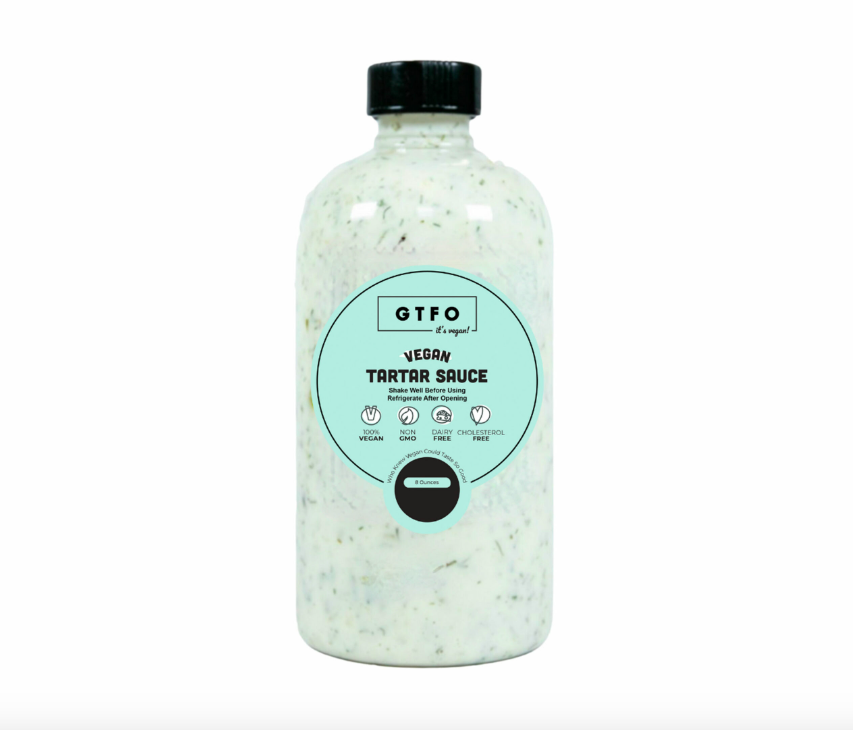 GTFO It's Vegan
15 GTFO It's Vegan Tartar Sauce
Tartar sauce is like mayo—it's deceptively dairy-free, but it contains a pesky egg ingredient. When dipping tofu-based fish sticks, reach for a jar of this creamy tartar sauce (or make your own). Pro tip: this chunky dip is also phenomenal with vegan hush puppies, which are essentially quick-fried cornbread. 
Learn more here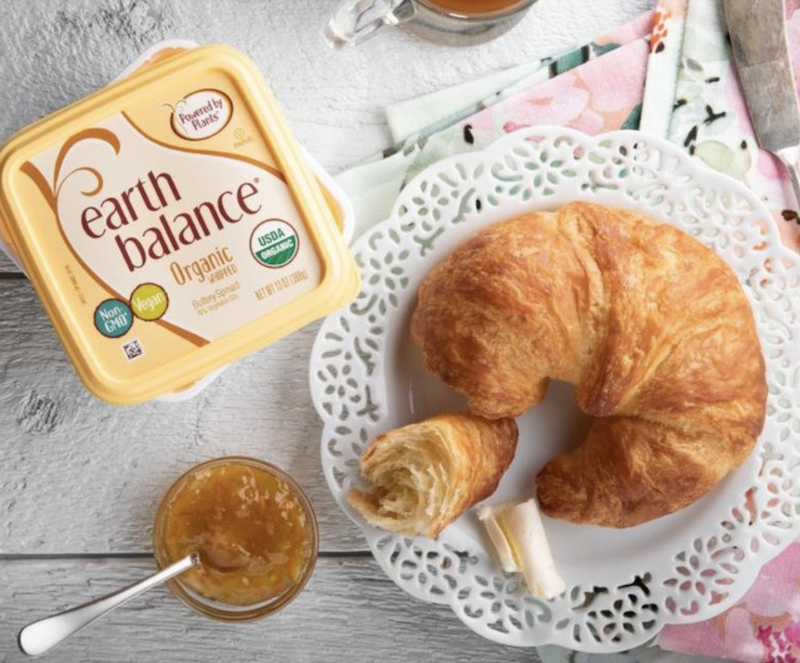 Earth Balance
16 Earth Balance Butter
With the exception of our failed homemade attempt, there has never been a vegan butter we haven't loved. There are a plethora of options—salted and unsalted, palm oil-free, cashew-based, and oat-based—but when it comes to the everyday butter we know we can find at virtually any grocery store, it's Earth Balance. No matter what brand you reach for, slather it on thick, because it's bound to be good. 
Learn more here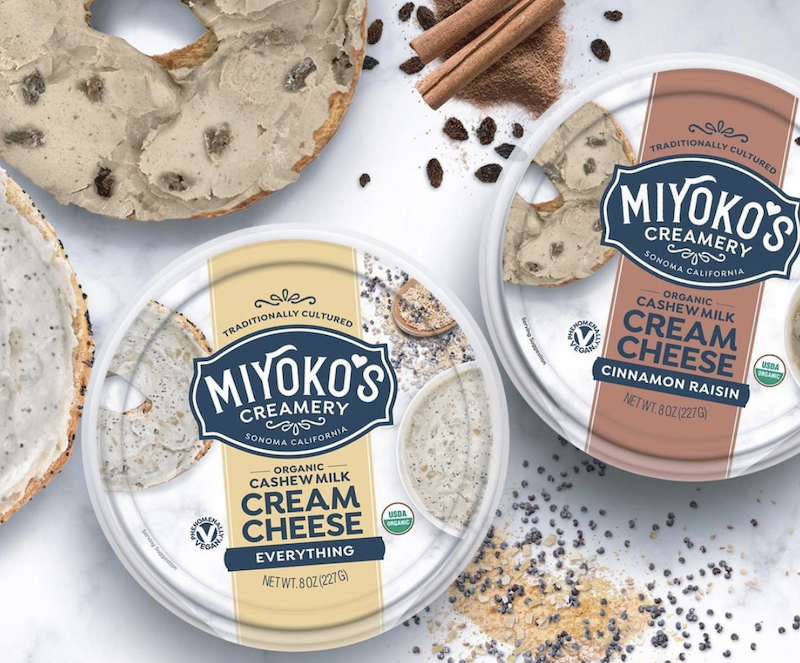 Miyoko's Creamery
17 Miyoko's Cashew Milk Cream Cheese
For cream cheese so thick and velvety it gets stuck to your teeth, reach for a tub of Miyoko's. This cashew-based spread is for those who measure thickness by the centimeter, or dare we say half-inch? It's for those who lick the knife after the spread, expertly avoiding the serrated edge while gleaning every last bit of cream cheese from the utensil. The brand makes a flavor for everyone including Classic Plain, Savory Scallion, Everything, Fish-Free Lox, and Cinnamon Raisin.
Find it here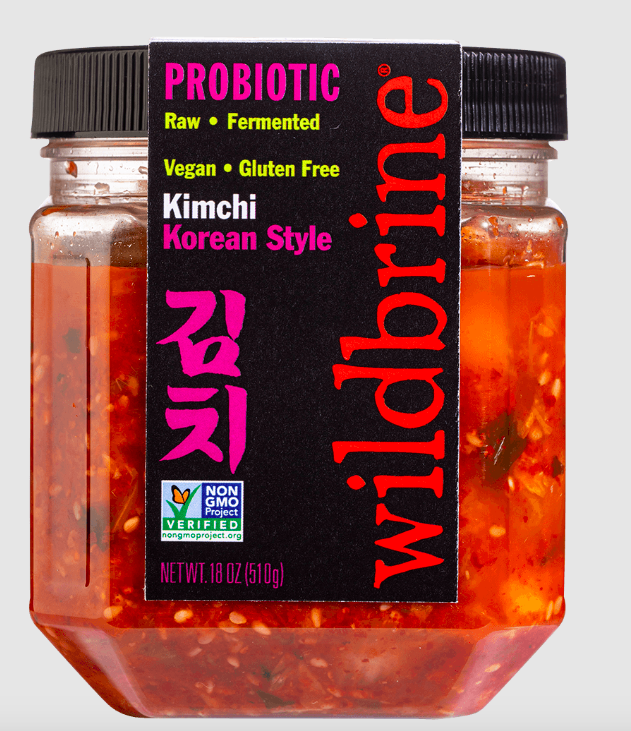 Wildbrine
18 Wildbrine Korean Kimchi
Known for its krauts and gut-friendly products, Wildbrine shows off its prowess in fermentation. The brand makes three different types of kimchi, but this Korean style is the most true to the fish sauce-laced pickled napa cabbage we grew to love in the pre-vegan days. Horseradish lovers, pick up the Miso Horseradish Kimchi—just be prepared, one bite will clear your sinuses. 
Learn more here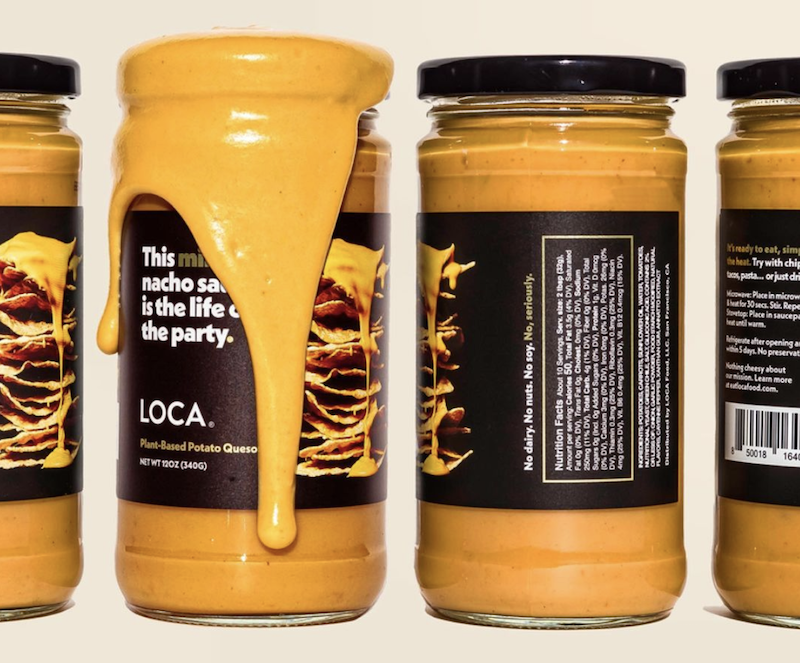 Loca Foods
19 LOCA Queso
Even good dairy-based queso is hard to find, but LOCA nails this addictive, spicy cheese dip, and it does so with humble potatoes. Don't ask how, just enjoy. Get your vegan nachos, tacos, and tortilla chips at the ready! 
Learn more here
For more vegan staple products, read:
25 Accidentally Vegan Snacks You Can Find at Virtually Any Convenience Store
The Essential Vegan Guide to Pantry Staples
The 70+ Essential Products at Trader Joes

JUST LAUNCHED! Get our 10 Easy Vegan Summer Meals recipe book as a FREE instant download.
Get the Guide
JUST LAUNCHED! Get our 10 Easy Vegan Summer Meals recipe book as a FREE instant download.
Get the Guide