A new food truck is pulling into town with the intent of serving authentic Thai food to customers.
Thai Recipe is the first food truck of its kind in the Tyler area, said owner Melamine Troy. Being able to bring Tylerites a type of food that is special to her is something Troy said she is excited to do.
"I want to serve my food like I serve my family," Troy said.
Being from Thailand, Troy said she is far from home and is ready to share authentic Thai food with others. Since about the age of 7, Troy said she helped her aunt in the kitchen and even to this day her aunt is there to encourage or help her with the food.
The food Troy plans to serve comes from recipes her aunt gave her while she was 'shadowing' her in the kitchen, she added.
Troy had a soft opening at the Coco Bean Sunday so she could see what needed to be done or possibly improved before officially opening to the public in July. She said that a lot of great feedback was given and she woke up the next morning to hundreds of positive messages from people who are ready for the opening.
Among those who have had the opportunity to taste Troy's food before the official opening of her business are some of her Thai friends, she said. Being older and also having grown up cooking authentic Thai food, Troy said they have more experience so she was happy for their positive response.
"They said you can call your food Thai authentic and I'm so happy with that," she said. "I will do my best on this one and try to keep everything the same."
Prior to moving to Tyler in 2019, she and her husband lived in North Dakota and always had the dream to open a food truck in Texas and have been saving for years, Troy said. While in North Dakota, she added that she also worked on a Thai food truck there for a couple of years.
There are eight entrees, one appetizer, Thai lime ice tea and Thai milky tea on the menu.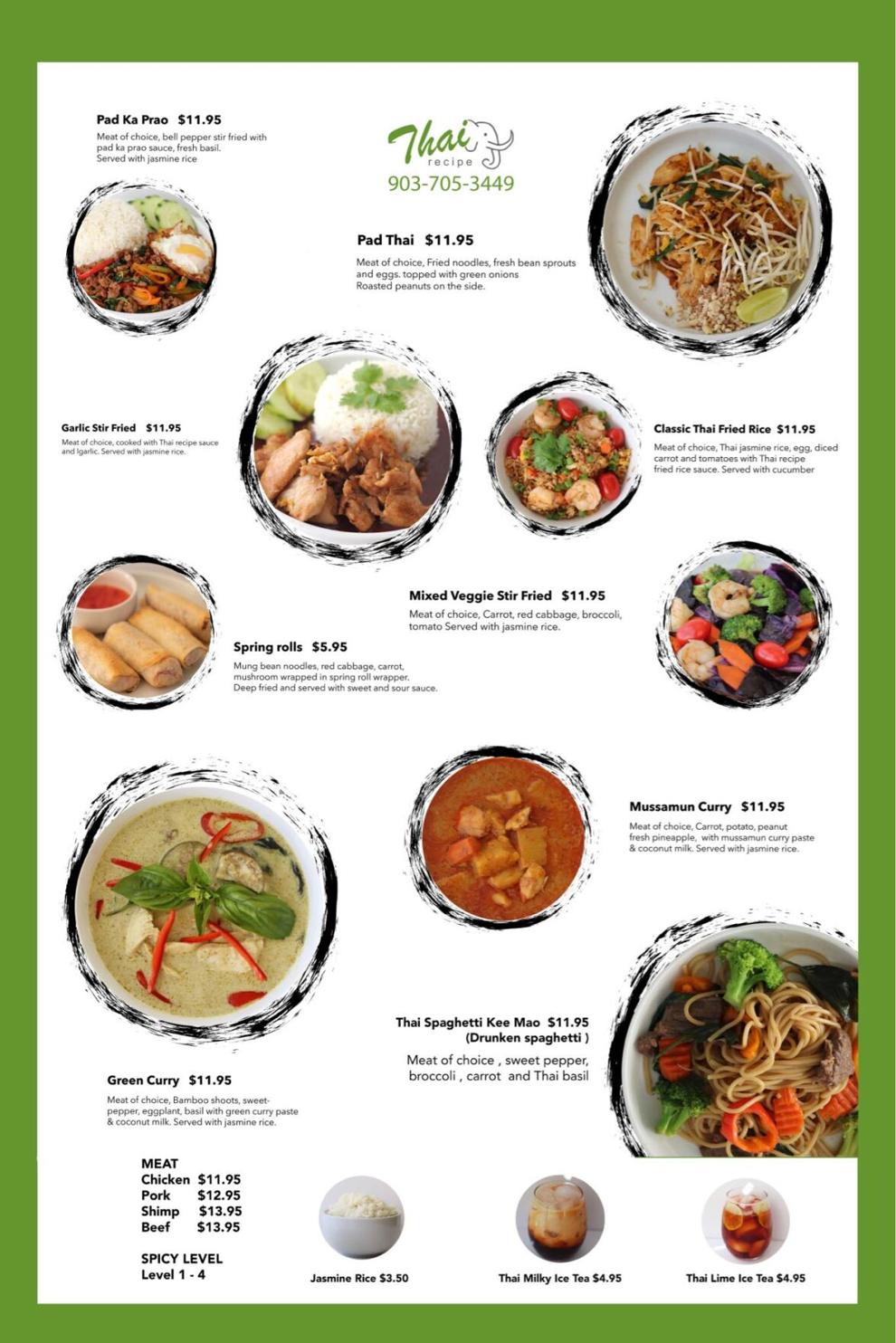 One item that will be included on the menu that most people know is pad Thai, Troy said. A more special item will be mussamun curry, made with her uncle's recipe.
At the moment there is only one appetizer, which are spring rolls. Troy said she looks to add a sweet and sour soup as an appetizer option in the winter when the Texas heat is not so bad.
Thai Recipe will be officially opening in early July. Once the plans are official Troy said she will be updating everyone on the date, time and place of the opening via social media.
The business can be followed on both Facebook and Instagram @ThaiRecipe.